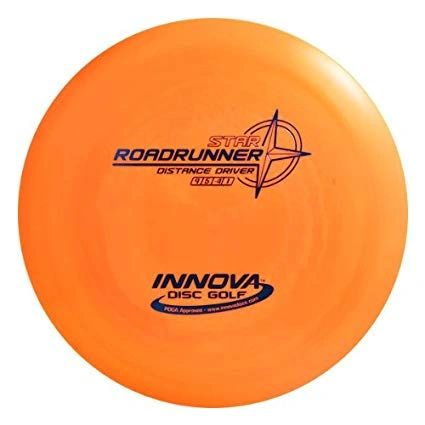 Star Road Runner
Speed: 9 | Glide: 5 | Turn: -4 | Fade: 1 | Gradient foil stamp.
The Roadrunner is a long-range distance driver with lots of glide. It makes an excellent finesse driver or long range roller. Power throwers can use this disc for long turnover shots and rollers. Less powerful throwers can use this disc for long, straight shots or low tunnel shots. One of the best Distance Drivers for turnover shots.
Material: Star Discs
Star Line is created with a special blend of grippy, resilient polymers. Star Plastic offers the same outstanding durability of our regular Champion Plastic, plus improved grip like our Pro Plastic. High performance, longevity, and superior grip make Innova Star discs the ideal choice for your game.
Roadrunner Dimensions:
Diameter: 21.1 cm
Height: 1.4 cm
Rim Depth: 1.2 cm
Rim Width: 1.8 cm
Max Weight: 180.00 g
Additional Information:
Speed: 9.0
Glide: 5.0
Turn: -4.0
Fade: 1.0
Primary Use: Control Driver
Stability: Understable
Recommended Skill Level: Beginner, Intermediate
Plastic grade(s): Air Bubbles, Basic (Cheapest), Durable, Midgrade, Premium