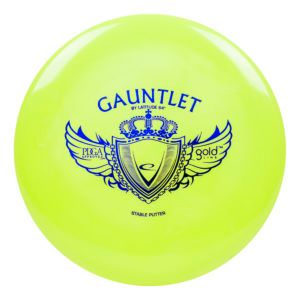 Gauntlet- Goldline
Latitude 64 Gold Gauntlet
Stamp color will vary.

Are you searching for a reliable putter with stable flight? Then it is time to challenge the course with the Gauntlet, a high profile putt and approach disc with a beaded rim. A stable flyer with good glide makes it a handy weapon in every bag. It is similar to the Macana but with a less rounded lower rim. Hit your target dead center with the Gauntlet!

Speed: 2 Glide: 5 Turn: 0 Fade: 1

About Gold:
Gold Line is Latitude 64's premium blend plastic. The start of the mix has been the same brand plastics used in Opto Line but they added a different polymer to give it better grip without losing the excellent durability of Opto Line.